Who doesn't love hot pink pants? Nin is growing faster than I can keep pants on the poor kid so I saw this pair of pants in a sewing forum the other day and set right out to make them. They are super fussy with all the topstitching and all the details and pockets, but I really wanted to make them. Now, whether Nin will wear them is a different story. Sometimes she goes through these phases of "pants are for boys and I won't wear them". Then other times, pants are just fine. She seems to like them but hasn't worn them yet...
I used about 1 1/2 yds. of hot pink twill along with ribbon, interfacing, button, zipper, size tag, a kellybellykids tags and lots of thread. Great for stash game. These pants alone are worth 21 points. That probably means nothing to you, but trust me, its a good thing!
Pattern: Ottobre Design 1/2011 #13
size- 128, the largest size of this pattern
The pants fit spot on straight from the pattern. I did add 2 in. of length so I could make an extra large hem so that when she grows in 2 months, I can let the hem down and not lose all my hard work!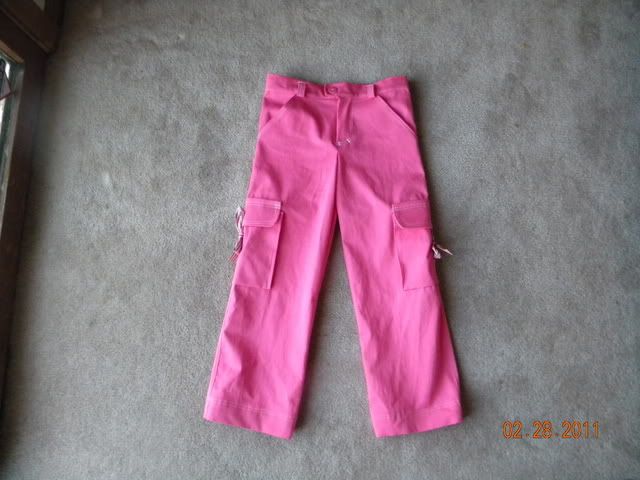 Look at that zipper! And yes, I had a hot pink zipper on hand!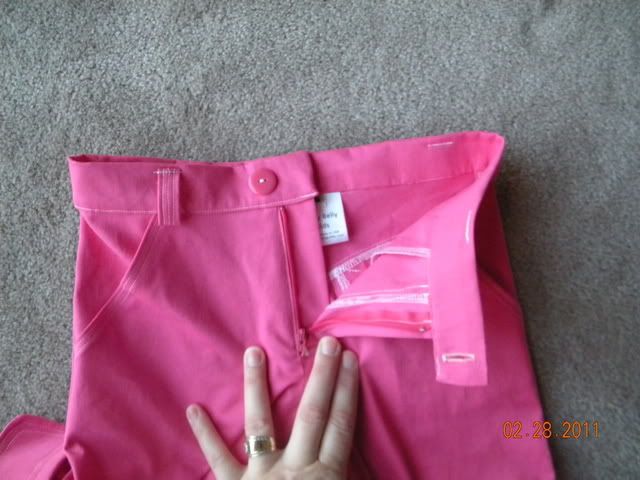 Leg pocket
Look at all this topstitching!!!! Double and triple rows. There is no way these pants are falling apart..
I love this pattern. The directions were easy to follow, I love all the details and I really like the way you add the pocket on the side of the leg. There is no visible seam on the bottom! Clever! I also love the back pockets that are tucked into the yoke. If Nin will wear these, I will certainly make them again. KK wants a pair, but 128 is the largest the pattern comes. I could probably get away with keeping a size 128 waist and adding about 5 or 6 inches of length. But that girl has more clothes than she can wear.