Where did January go? Really! We were so busy, but I managed to make a bunch of clothes, finish up some UFO's (unfinished objects) and clear off my sewing desk. Oh, and I sucessfully managed to run my hubby and his hobby out of the sewing room! So it's all mine now! Theo Rama came to visit for awhile, so he got some new duds, and my Grandmother turned 90! Whew, I managed to fill that month up!
Once I kicked the hubs out of the sewing room I rearranged my fabric. Which was a bad idea because now that it's all out in the open, you can really see how much I have! When it's stacked in piles on the floor and shoved into the corner of a closet, you really can hide a lot! Once I figured out how much I had, I set to work sewing some of it up so it would all fit on the shelves. I decided to start with the bulkiest stuff to make the most room. The bulkiest things are french terry, sweatshirt fleece and fleece. Prime jacket making materials! So that's what we got!
Two jackets for me from the 5/2011 women's Ottobre magazine. These are a great fit and pretty easy to put together so I made 2!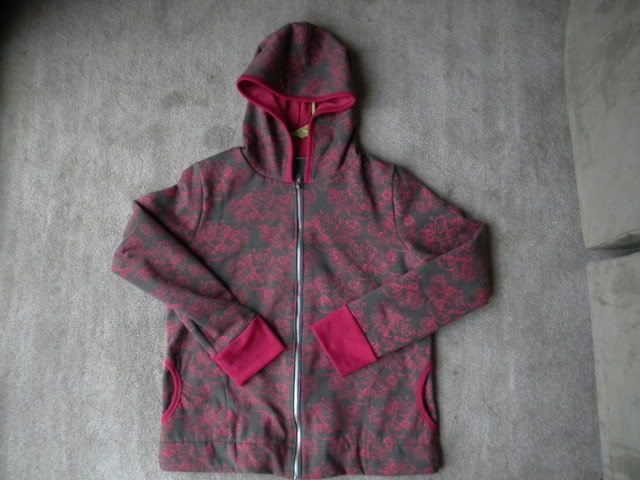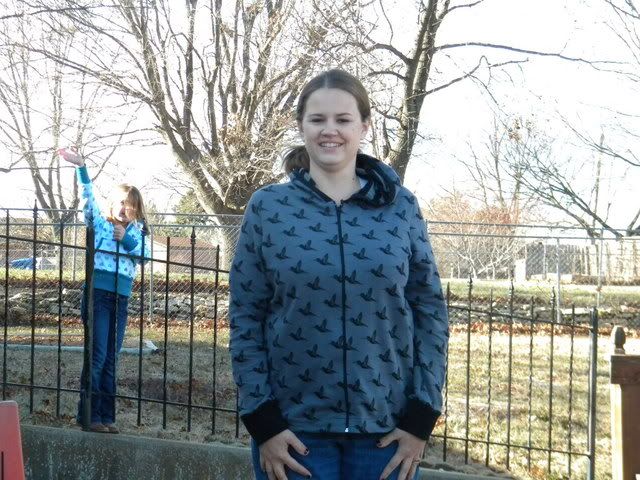 Each of those jackets took 2 yards of material, which was super bulky and left a big void on the shelves!
PS- in case you don't believe me here are my knit fabric shelves...
Before: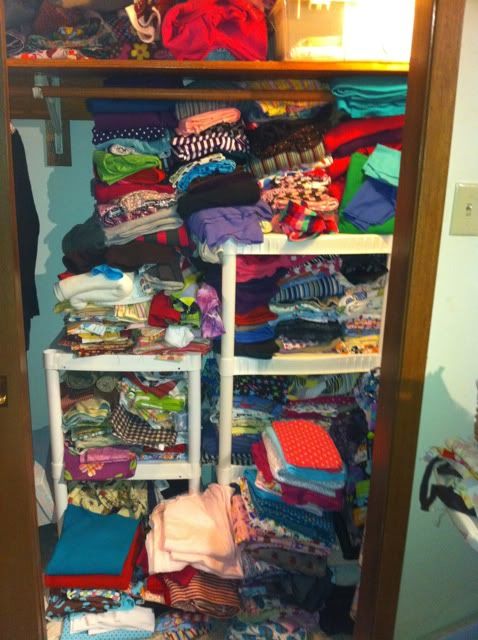 After: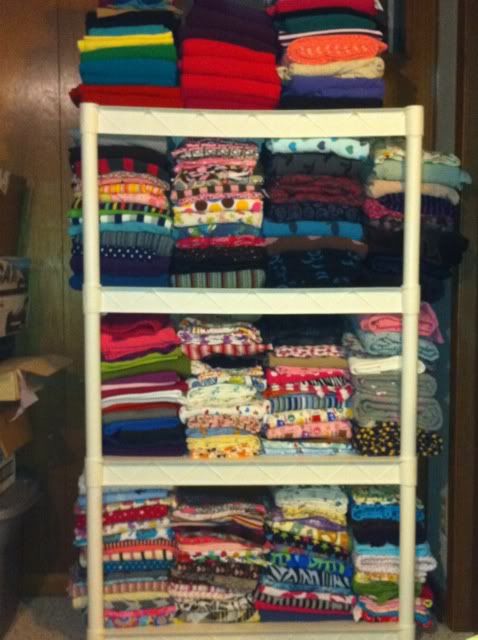 The girls each got a hoodie. I made one of these before so I already had the pattern traced and ready to go! Plus, I knew the girls would love them!
Pattern:
4/2007 Ottobre # 34.
Nin got hearts: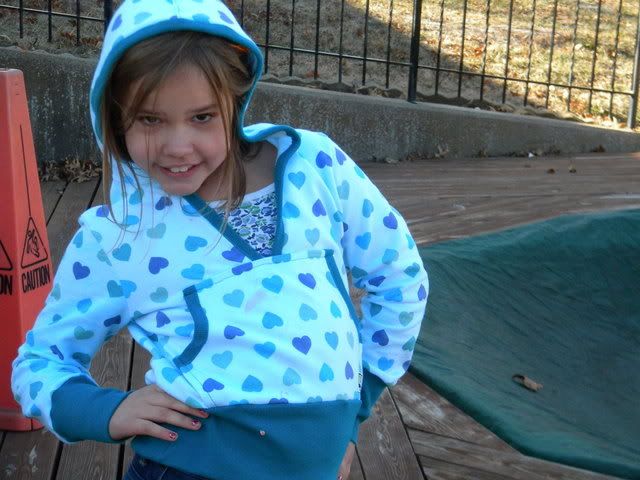 Kk got bunnies: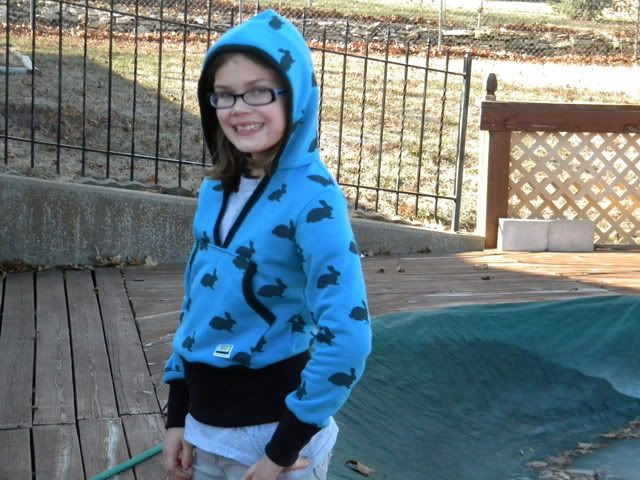 Pow! Another 2 yards gone! If you are counting that's 6 yards down...
Then baby Avie got a new coat. I made her one of these in the past and since the child never grows, I could still use the same pattern tracing since it still fit her. I just had to lengthen the sleeves.
Ottobre 4/2010 #7
Look at this, I even fussy cut the pockets so each one would have a cute little elephant on it!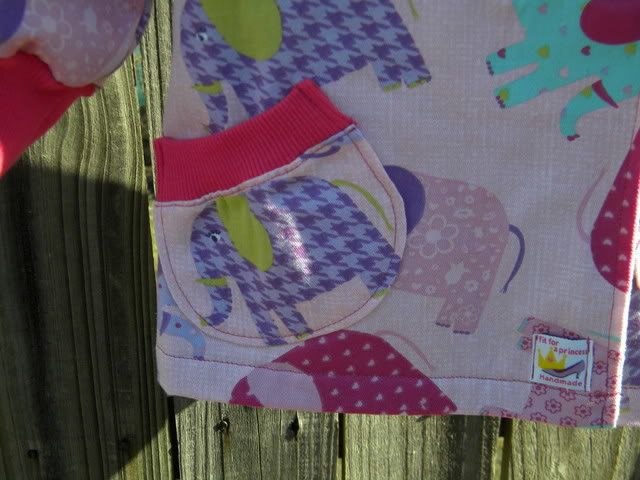 Here she is, not so happily modeling it.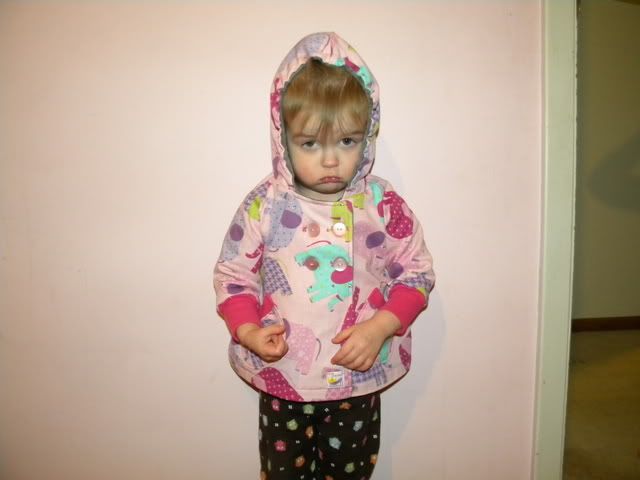 There were also school dresses. I mean, only my kids are asking their mom to cut up their brand new school spirit shirt to make it into something else.
Leggings: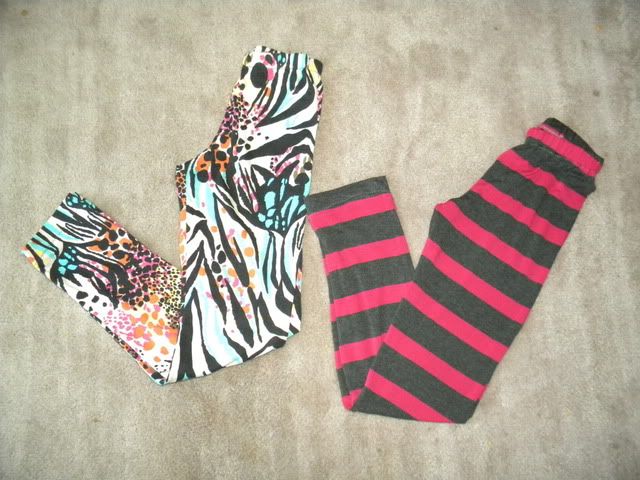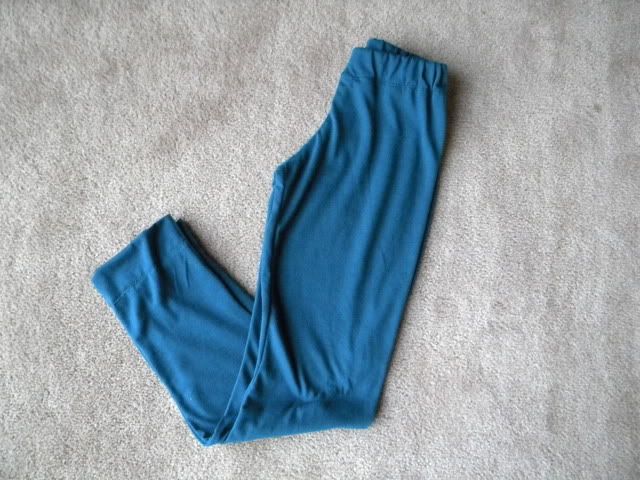 And an outfit for KK. Which you can't really see here. She picked it out of my most favorite Ottobre mag and asked me to make it for her. How could I say no?
1/2009 Ottobre: tank, skirt and leggings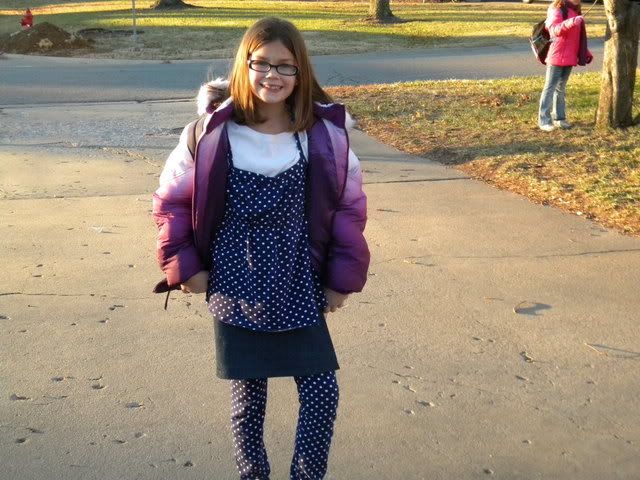 Closest matching zip that I had!
Pockets!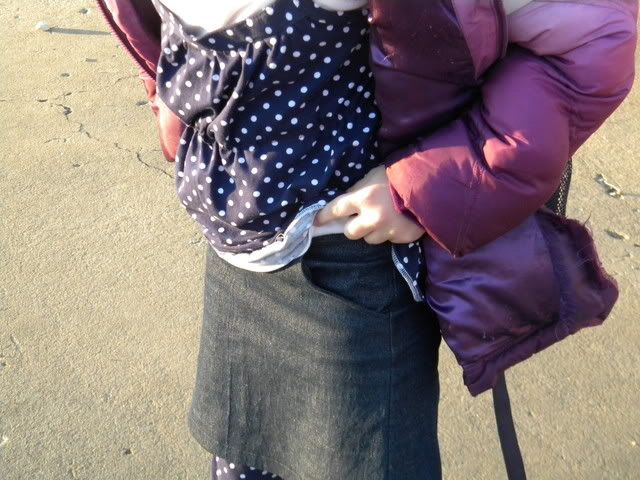 The bad thing about this outift is that the tank needs to be ironed before she wears it because the hem is not large enough and it flips up in the wash every dang time! And you know me, I cannot let her go to school with it flipped up. It's the ironing OCD coming out in me....