My personal sewing quest continues! I spent the better part of an afternoon sewing up 2 shirts for myself.
The first is a silky, sleeveless number from a recent Ottobre. I decided to make a muslin since it is a button up and fit matters. I used this slippery, poly stuff from JoAnns red tag table that cost me $2.50 a yard. Bingo! Perfect muslin making fabric! It was not the best to cut or sew and kept slipping all over the dang place. But I got it done and I like the shirt as a pattern, but I am just not sure if this is wearable. It's too tight in the bust, and although the buttons don't gap, there isn't much room. The waist is fine but it's a smidge too tight in the hips. And I think it's too short.
Before cutting out the fabric for this one, I had moved the bust dart down, since the pattern had it above my bust.... I also should have done a FBA (full bust adjustment) to give the girls more room. FBA's keep the side seams the original size while adding more room to the cup portion of the bust. So, I pulled the pattern back out and in a couple days, I will alter it and try again. Which is the purpose of making a muslin!
Pattern: Ottobre 2/2011 #9, size 40.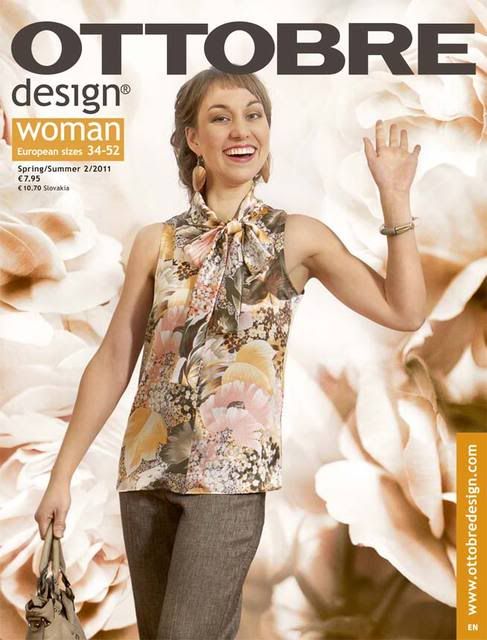 Then I pulled out a new Vogue pattern I purchased recently. I bought the pattern because I knew I had the perfect fabric to use with it!
I wanted to make the main view, which has little side cutouts with the fabric placed in the opposite direction. But I also wanted the short sleeves since we are going into summer here! It will be 91 degrees this week! In April.... The short sleeves have these little box pleats at the shoulder seam and are very bulky and I don't like the way they lay. Since the shirt itself is flowy, I think the need the more conservative sleeves like the pattern envelope shows. Oh well, live and learn and all that jazz.
I think I will rip them out and re-cut the sleeves into a regular ole' short sleeve and see if I like it better.
Otherwise, I like the pattern fine, but it may a bit too flowy for me. Maybe paired with some skinny pants?
Love the side cutout! 
See what I mean about the sleeves. There is just too much going on up there.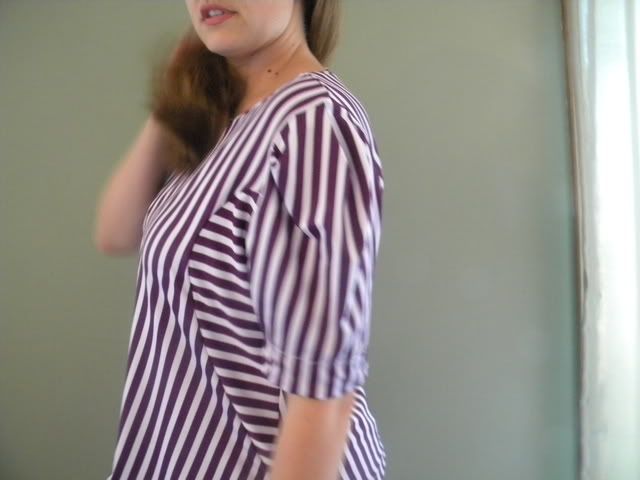 Photography credit goes to my 7 year old.