I love making the Sudoku skirts from Ottobre 1/2009. And I especially love making them during Stash Game since they give me lots of points! But really, how many of these same skirts do my girls need? I mean, we have like 4 floating around the house. So I made a couple for the other little girls in my life.
Let me tell you, I spent an hour hemming and ruffling the bottom ruffle to these skirts. That doesn't even include attaching it or topstitching it. Hemming and ruffling. Aaack! But those ruffles are so lovely! The bottom ruffle on each skirt is like 28 feet long and then gathered to fit the skirt. Ridiculous!
For an explanation of how I put them together take a look at past
Sudoku's
. Each of these has 24 different scraps in them.
Pattern: Ottobre Design 1/2009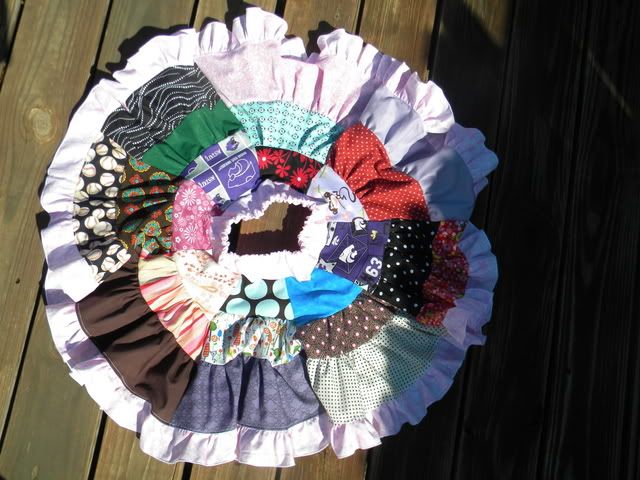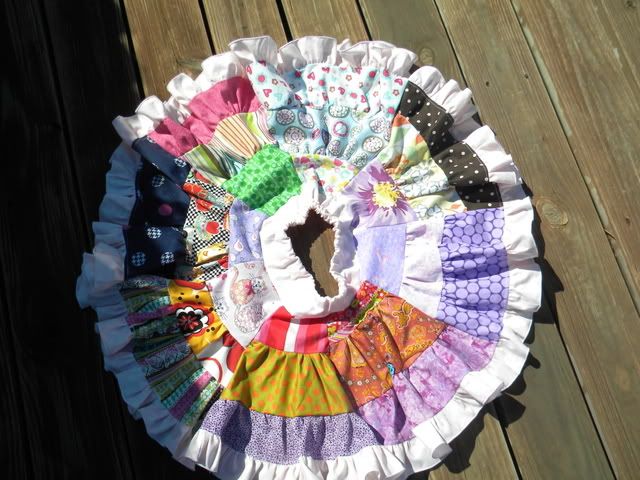 A look up at all those ruffles!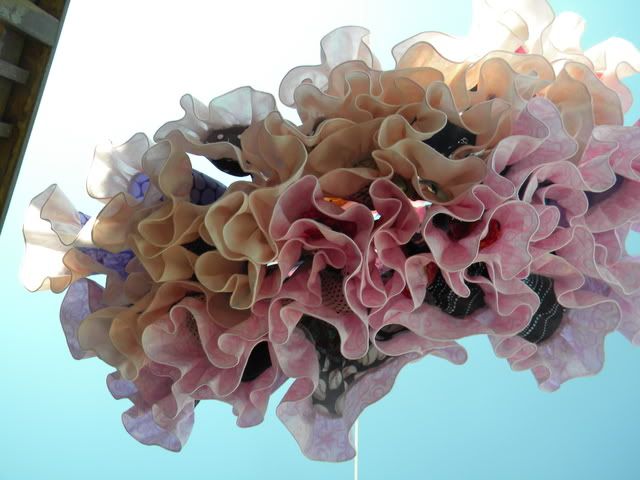 And the other stuff! A few long sleeve shirts.
Ottobre Design 4/09 #35 in size 134
I love the way this shirt is cut and the stripes face different directions! I barely eeked this shirt out of the fabric I had left though and the sleeves ended up being barely long enough so there was no way I could hem them. I solved that problem by hemming them with picot elastic. Perfect!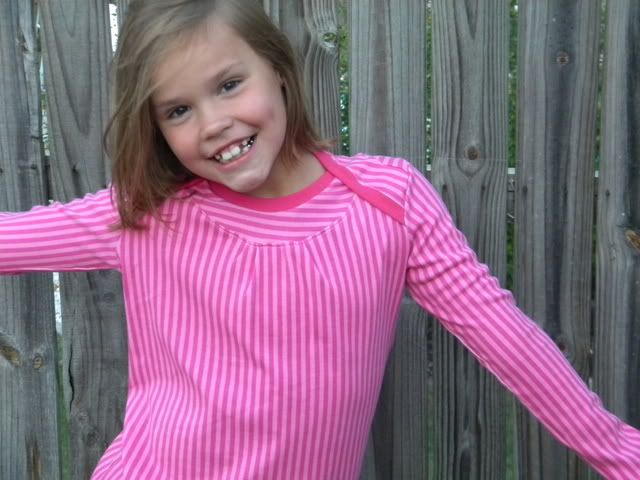 A tunic for KK. I ordered a yard of this fabric from Girl Charlee awhile back and liked it so much that I re-ordered 2 more yards of it when I placed another order! :)
Pattern: Ottobre Design 1/2009 #28 size 134
(Have I mentioned lately how my girls are 3 years apart in age and wear the same size? I'm sure you are thinking, great they can share clothes and I don't have to buy as many. Yeah right, they fight over everything. Each girl must have their own!)
(Have I mentioned lately that Ottobre 1/2009 is my favorite issue? I have made most everything in that issue!)
The pockets are a little hard to see..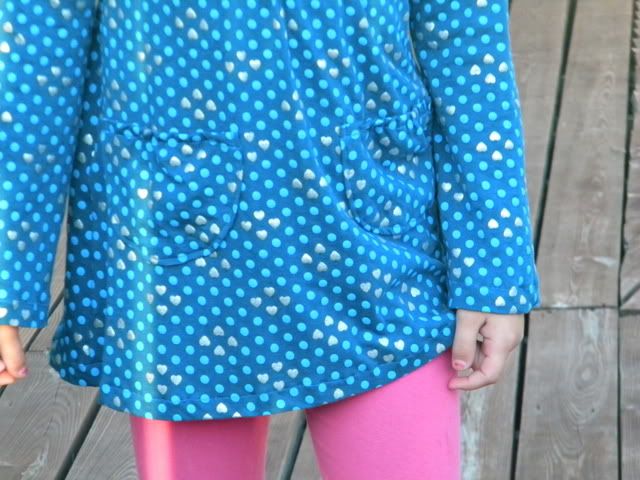 Finally, a Mamu Sabrina for Nin. I also ordered this butterfly cotton lycra from Girl Charlee. Very nice fabric and the girls love the butterflies! Maybe I should just have my paycheck direct deposited to Girl Charlee's bacnk account? She has such great stuff though! Do you know how hard it is to stay away during SG?
The thing I love about the Sabrina pattern is that it is open to personalization. Hood or no hood, long sleeve, short sleeve, cap sleeves, puff sleeves, pocket, tunic or dress length.
This just happens to be a dress with a pocket, no hood and long sleeves! I promise it's not wonky in real life. Just on the hanger...