It is now that time of year! Stash Game started on September 1! If you recall, Stash Game or SG, is where I earn points for sewing and lose points for buying fabric. February and September are about the only 2 months out of the year that I almost don't buy fabric. Almost, because every now and again I slip up. Maybe a yard or two if I really must have it!
I have started out strong and mostly made my way through the things I had cut out. I need to spend some time tonight cutting out more items. I usually try and trace all my patterns the couple weeks before SG and then the first day or two I go on a massive cutting bender and cut out like 10 or 12 items. Then I spend the next couple days sewing.
I intend on cutting out some pillow cases for the charity project this month. I figured with my serger I can whip out like 15 in one night. They are basically a seam up each side with a hem at the opening. I also intend on making the girls some pants. I have a couple colors of twill to turn into pants. I also am going to make the hubby something! I bought a cargo shorts pattern from the Kwik Sew co-op a few weeks back.
Let's start with some baby items! I made this outfit as a present for a baby shower. Once I had it done I thought it was so cute that I decided to make my niece one also!
Pattern: Ottobre Design 4/2010
t shirt- #1
tunic- #2
pants- #3
the baby shower gift is in size 62, about 3 to 6 months-ish. I cut out a size 74 for my niece. The pants are 74 waist with about 2 inches of added length since she is longer than she is wide! I do need to find a way to fix the smaller set. The tunic is so freaking wide! Maybe some shirring?
The baby set is made from one of my most cherished fabrics. Not my all time fave, but this comes in a close second! It's Alexander Henry and I found it at a garage sale. There was only 1/2 a yard which is not enough for my girlies but was perfect for this project. I think it is soooo beautiful!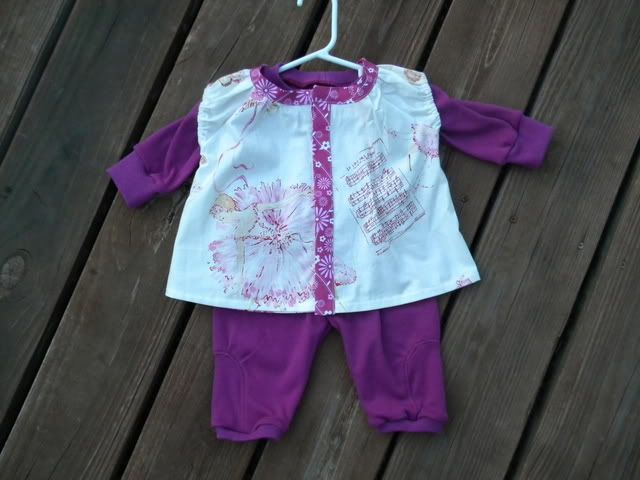 close up of the ballerina's!
The pants have these little cut outs on the side that gather up and fit onto these little panels.
I also added cuffs because one of my biggest pet peeves for baby clothes is when the legs ride up and leave the babe's legs exposed. I almost always add cuffs to baby clothes for this reason!!