I had Thursday off work for Veteran's Day so I managed to get lots of time to sew this week. I sewed all day Thursday, a little on Friday night and then a couple hours Saturday and Sunday.
I found a pattern that I just had to have. Like I ordered it 20 minutes after I saw it and had it in my hot little hands about 5 days later. Then I cut out these 2 shirts and made them this weekend. Talk about instant gratification!
Pattern:
Mamu Deborah. This is a sneaky little pattern. It doesn't look like much, but then you look at all the options it has! With a hood, without, long sleeve or short, v neck or round, long or short cuffs on the sleeves, the list goes on.
The first is a v neck with a hood, long sleeves with long cuffs. Made out of velour from JoAnn's. Holy cow! This sucker is soft, like wear to bed soft. My girlies kept hugging me saying, mommy your shirt is so soft!
The next is a shapeless blob on a hanger or....
a v neck with no hood, with long sleeves and medium length cuffs. (Seriously, I didn't want to change my clothes to take pics this morning.)
Pants for my Nin. What do you think, are the polka dots too much? Do they scream chicken pox to you like they do for me? Well Nin doesn't care she picked out the material and thinks they are great. That's what counts right?
Pattern:
Ottobre Design 4/2009 #31 in size 128, with 4 in. of added length. Now don't go polishing a Nobel prize or anything, but I finally figured out a way to outsmart her growth spurts. I added length and made the hem really big so that when she grows I can just rip the hem stitching out, let down some of the length and re sew the hem. I am sure seamstresses have been doing this for centuries, but it just occured to me to give it a try. That way I won't be frantically sewing pants late on a Sunday night for her to wear to school the next day because I am a bad mom and she only has a couple pairs that fit her. Whew!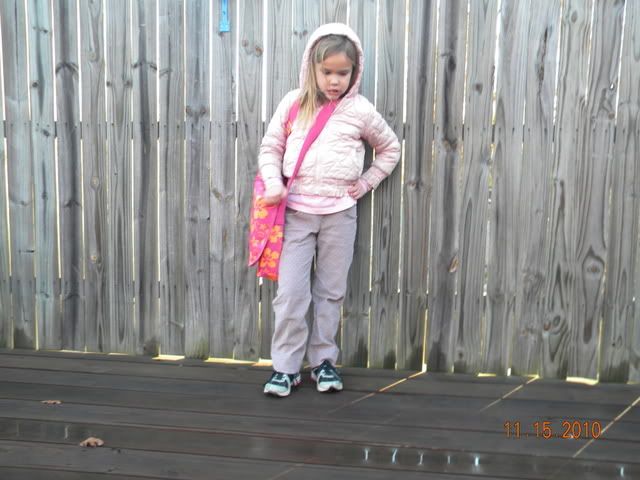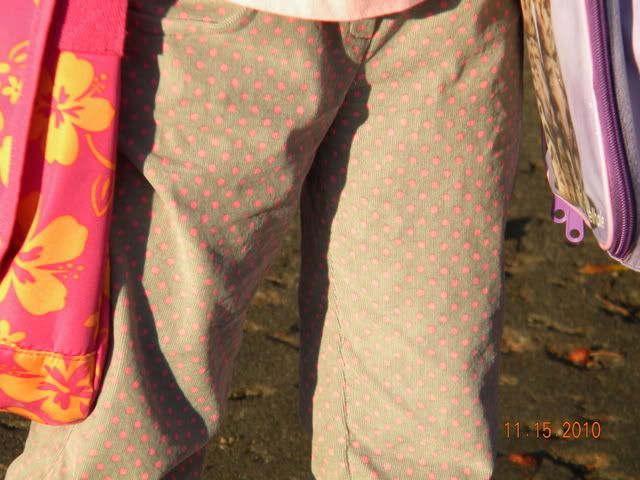 These pants are also the same pattern, but I just cut them out of a pair of my old work pants that are too short for me to wear with heels. I even used the waistband of those pants and just sewed it right on. Brilliant! Now this could go either way with my Nin. She is very particular about the clothes she wears. But when she got home she said, Mommy, they look just like work pants, I love them! Thank God for small miracles.
And finally, a baby coat for Baby Averie. This coat is super adorable in every aspect. It's tiny, cute, soft and easy to sew!
Pattern:
Ottobre Design 4/2010 #7 in size 74
Tiny, no?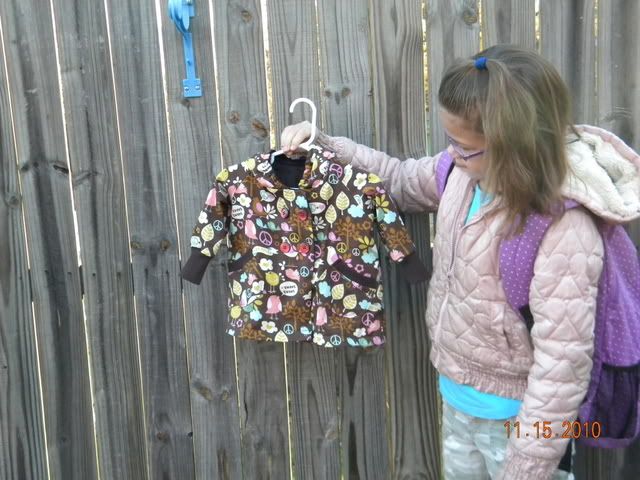 Buttons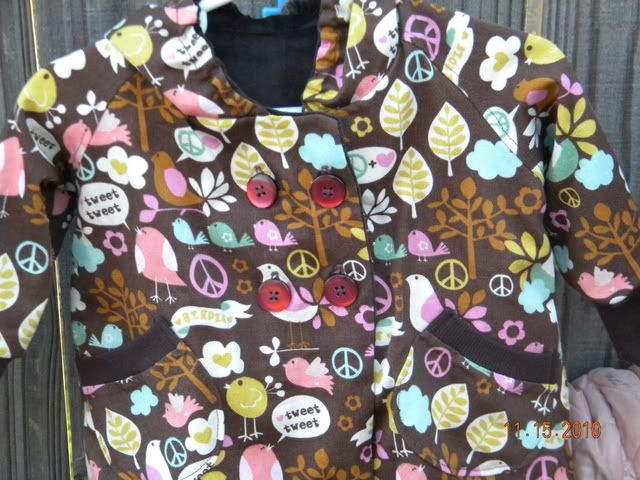 Hood and can you see the lining in there? Fully lined in Velour. Yummy!
Thas is all the sewing I accomplished the last couple days. The girls and I did some fabric painting for t shirts I have to sew up still, but can't do that until the paint is completely dry.