I started making the girls some school outfits. Not in enough time to actually complete them before school started of course. But school outfits nonetheless! When the Ottobre 4/2011 arrived in late July KK spent an hour pouring over the pages and telling me which outfits she liked. Which was most of them. Most of the older girls clothing was very 1980's! She picked out this outfit straight away and asked me to make it first.
As KK gets older it gets harder to find patterns that she thinks are cool! Tunic and leggings always work, so does anything with purple and she will wear skirts as long as they have leggings underneath. Characters are out, so are things that are all pink.
Pattern:
Ottobre Design magazine 4/2011
jeggings- #29
tunic- #37
both in size 134 with a bit of added length
The jeggings are made from the pajama jean material that I found in JoAnn's clearance bin. It only has 3% spandex so they are a little less stretchy than I like but KK thinks they fit just fine! I even bought jeans topstitching thread and topstitched them to look like real jeans. Otherwise they would have been just leggings. And what's the point right?!
The tunic is a striped knit that has pieces cut in different ways so that the stripes face different directions. She loved that part of the shirt the most. The center front is just a square of black interlock and the hem band at the bottom is also black interlock.
They really do fit her, I promise! She just had them turned up at the cuff like they did in the magazine.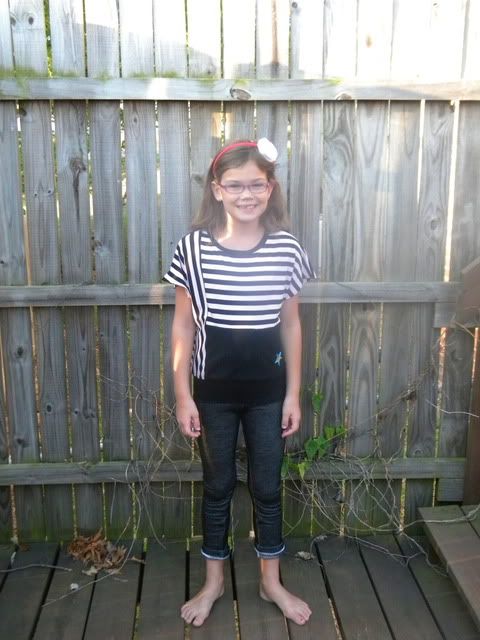 Fake pockets! Although the back has real pockets, I forgot to take a picture of them.
These are some little iron-on things she found in the clearance bin at JoAnn's that she had to have. So we stuck them on this shirt.