A new week of Kinder Gardens brings much of the same thing. A lot of work happening here on the top of the hill. But we have everything planted. That is, if you can keep me out of the garden stores, we have everything planted. I have this awful habit of visiting garden centers and coming home with plants, both flower and veggie, that I have no room for.
For instance, last week I went to Home Depot to find a tomato cage. I came home with 3 more tomato plants, 4 more pepper varieties, another watermelon, more okra and not one, but 4 tomato cages! You know, since I had to buy cages for the new plants I got. Geesh. But I am finding more and more heirloom varieties in the garden centers which is great since that is what I start from seed. I did buy an Early Girl, which is a hybrid, but I thought it would be nice to have some early tomatoes. But, my cherry tomato plant is the clear winner in the tomato category so far. Because of all my new purchases I had to add an addition to my main bed in back.
So last week the girls and I dug a 4 x 8 extension. Okay, it was mostly me, but the girls were in the general vicinity. Nin was the Worm Captain. Everytime a worm was uncovered she would pick it up, dangle it in her sister's face to illicit a scream and then run over and toss it in the compost pile. Kk bless her heart, tried to help and accomplished more than her sister, but everytime we came across a worm she would scream and run for cover. Geesh. Girls.
See the right side of the pic, how there is no plank in the front? That is the addition!
We have already planted the 3 tomato plants, 2 of the peppers and 4 okra in there!
Volunteers! Some years, like last year, we have great volunteers in the garden. Last year a tomato popped up and produced all year long for us! It was in kind of a bad spot, a little too close to another tomato, but he did alright! This year, we have 2 cilantro volunteers and one in the back that is not yet identified. At first I was sure it was a canteloupe but now I am not so sure. Anyway, he is too close to the okra so I might have to find somewhere for him
What do you think? Canteloupe?
The girls have had fun playing in the fairy garden recently. Someone, or something, took all the sticks the girls colelcted and began poking them in the garden making structures....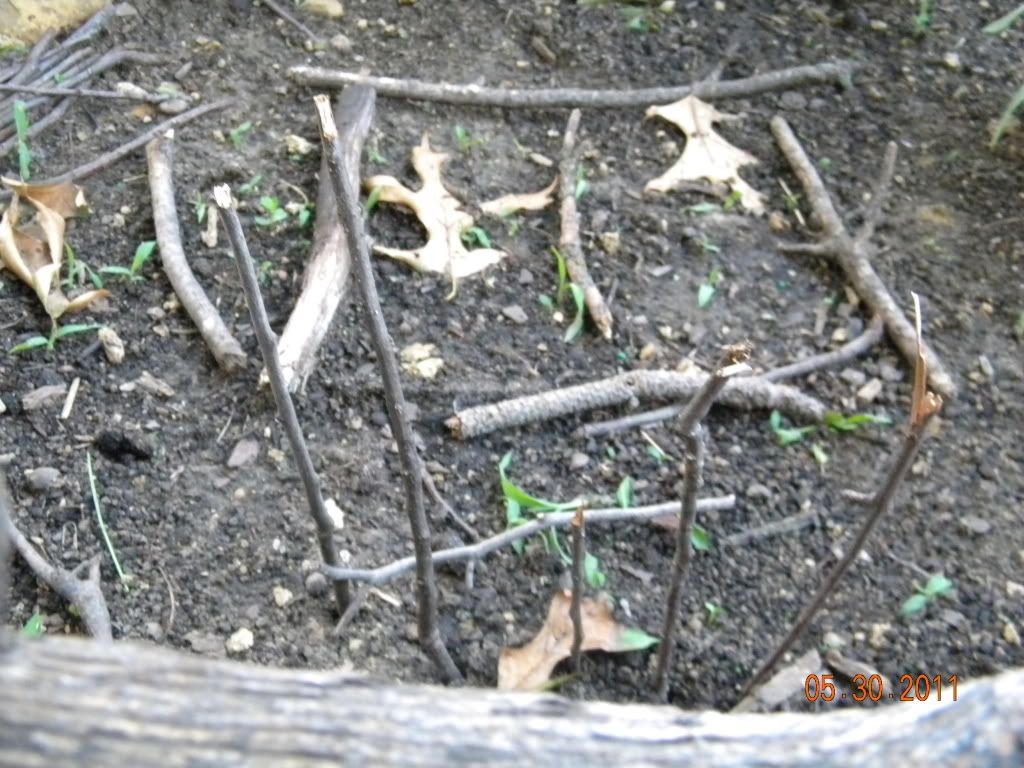 The flowers are doing excellent!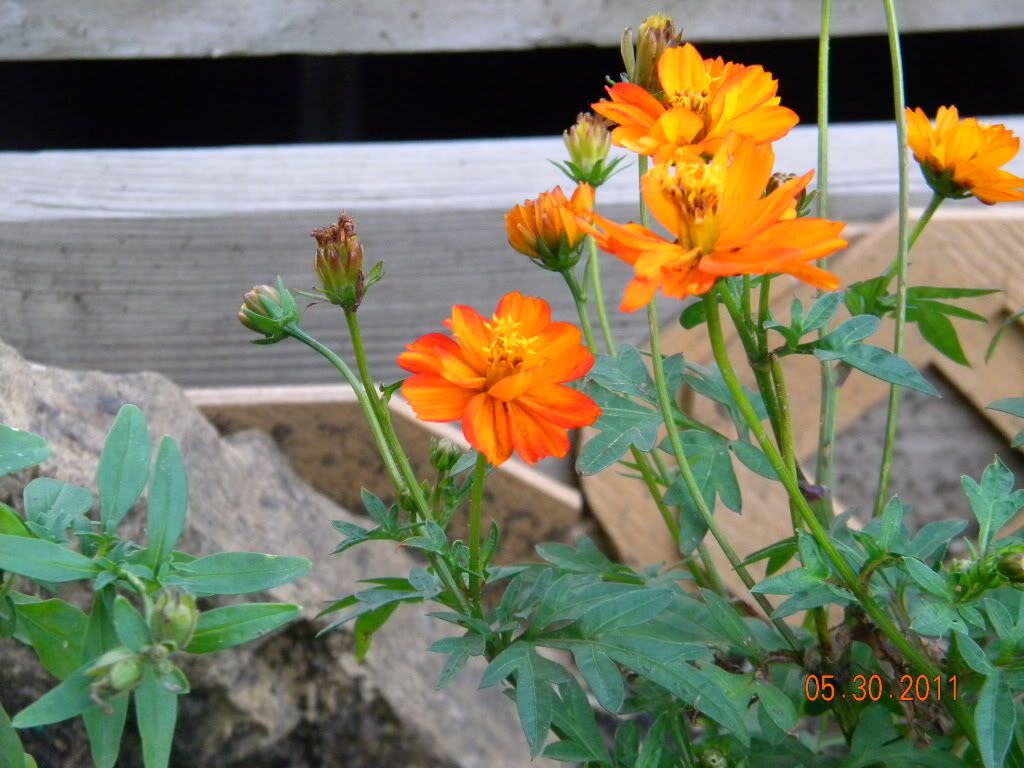 snapdragons
We also put a fire pit in back where the girls built a fort. Hubby dug a hole, lined it with rocks and then stacked some sticks in it. The first night they made Smores! It was 90degrees and very windy, but they were determined!
Hubs even whittled down some sticks for the marshmallows!
Other gardening events!
peppers with onions at the top
zuchini (which always does really great in our garden)
Peppers, with mulch. Hubs raked out a bunch of leaves from the fence, ran over them with the lawn mower then dumped them in the garden. I still need more, but he said I had to rake the leaves. Yeah, that didn't happen...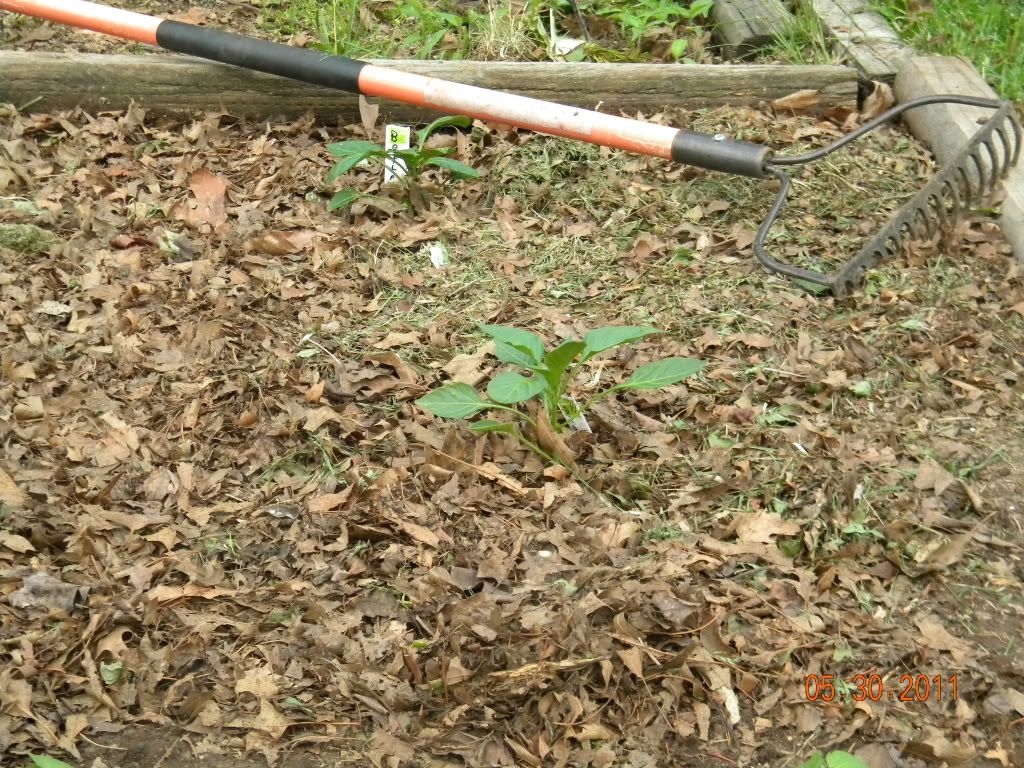 A potato has sprouted in the compost bin. It's doing really really great in there, but it had to be moved. I planted it just as a experiment!
Look at this beauty!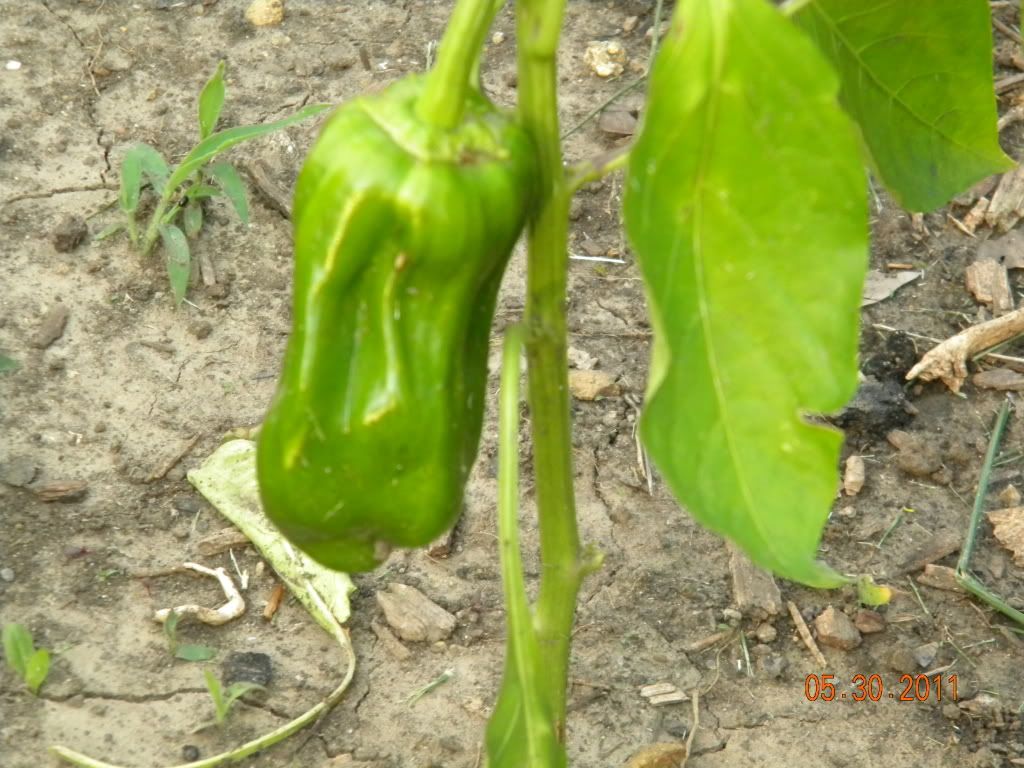 Moon flower from a friend. She got some sprigs from a building downtown that was just pruning and throwing them away. She gave me a few to plant for the girls. They are supposed to bloom at night!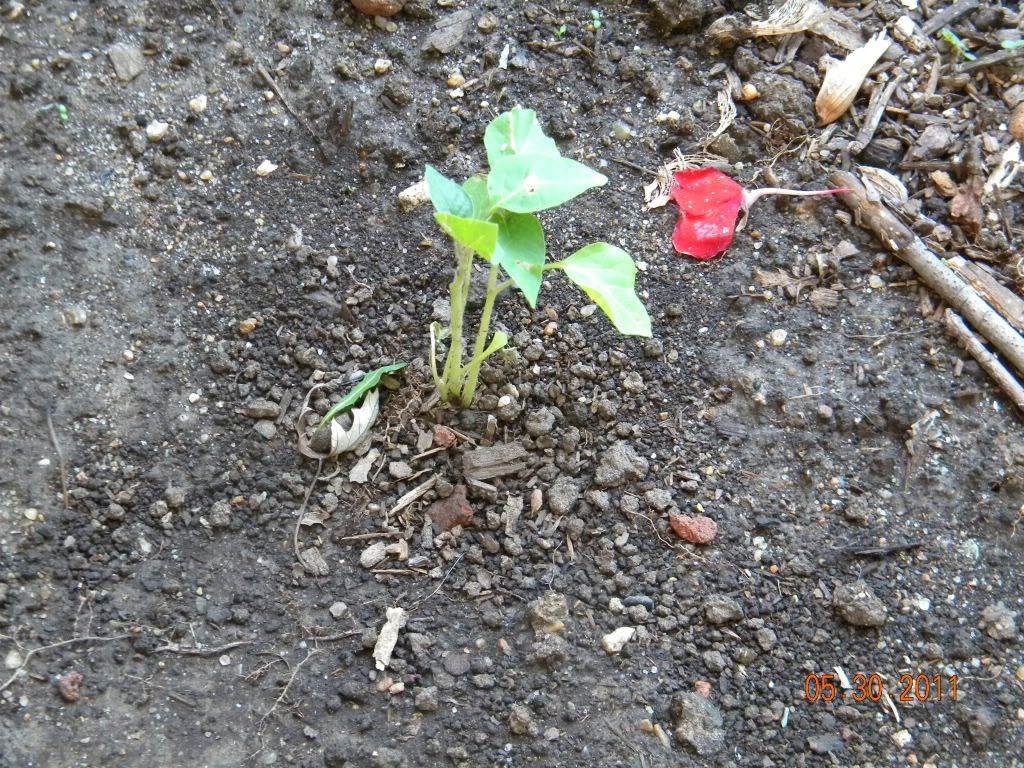 And finally, what is this? Is it a weed? I planted a bunch of hyssup seeds in the front garden and there are a bunch of these. I don't want to pull them in case they are my hyssup!