I am working on some Valentine shirts for the kellybellybags shop on Etsy which are in various stages of completion. So in the meantime, this is all that has been accomplished.
Pajama pants for the girlies for Christmas. KK picked out the fabric at JoAnn's Black Friday sale. No pattern, I just traced another pair of pants. Between tracing the other pants, cutting the fabric out and sewing them up it took maybe an hour for both pairs. Which is a good thing considering I finished them 9 minutes before bedtime on Christmas Eve. :)
It's kind of hard to tell, but they are reindeer.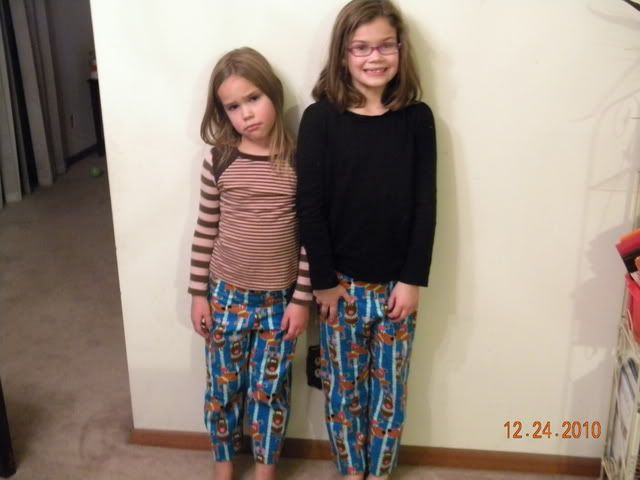 New Years weekend KK made some pillow cases while I was working on the Valentine shirts. We pulled a pillowcase off a pillow and used it as a pattern. Then she zipped them through the serger folded over the open end and hemmed it on the regular machine. She made 4 in about 40 minutes. KK's are the owls on pink and the elephants on purple and Nin's are the cows in swimming trunks and the mushrooms. The fabric is flannel (some from my Black Friday haul 2 years ago.
Didn't she do a great job?