There, I said it, I am a huge stash game failure. I haven't even sewn since Friday. 5 days ago. I have been cutting out lots of projects, which are sitting on my table, but not a lick of sewing has happened. Here is what I accomplished last Friday.
I finished KK's dress for her birthday. This is the huge ruffley, swirly, twirly, fabric eating dress that she wanted me to make for Sunny's wedding. This dress took every bit of 3 1/2 yards to make. I originally was only going to use the all white portion of the this border print linen, but I ran out, so I had to incorporate the border somewhere. She loves it very much so I am glad I made it. This was a one time project!!
Pattern:
Ottobre Design 3/2007
#32, I think. In size 128
All that was left of 3 1/2 yards....
The shoulder straps are supposed to sit on the very edges of the shoulder, like a really wide boatneck.
the border...
A pair of shorts for myself. I wanted some shorts to lounge around the house in. I don't wear shorts in public except for ones that reach my knees. Oprah says women over 40 should not wear shorts or capris so I guess I am getting a head start. This fabric is a very lovely double weight knit. I put in a yoga waistband instead of adding a casing and putting in elastic. OMG, so comfortable I want to wear them all the time.
Pattern:
Ottobre Design 2/2008
#6, pattern is capri's, but I hacked them off into short length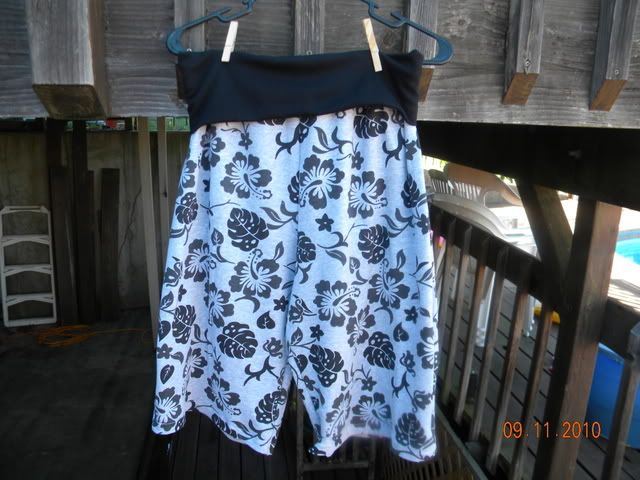 Baby clothes for some baby gifts. Since I needed 2 presents for little boys, I made them the exact same. I hope they don't wear them on the same day. How embarassing!!
Pattern:
Ottobre Design
#2 for the pants and #5 for the top. All are in size 62, which is about a size 3 month.