Last weekend I spent hours cleaning my sewing room. Folding fabric, sorting scraps, organizing patterns, sweeping, dusting, the list goes on and on. I spent so much time leaning over the air hockey table folding fabric that my back ached! I have some before and after pictures. Now, I know they are kind of crummy, but I took them on my cell phone. So just pretend I am some wildly popular photographer who takes excellent pictures and we will all get through this.
My sewing desk is a door that we purchased at Lowe's set on top of 2 old cabinets that a friend was giving away after his kitchen remodel. Hubby used a drill and cut 2 donut size holes in the top to stick the cords from the machines down so that they don't hang off the front of the table. In the left side cabinet, I have all my sewing tools in the top drawer, like measuring tape, rulers, scissors, seam rippers, etc. On the 2 shelfs underneath I have a bin full of zippers, elastic, magnetic snaps and plastic snaps and a bag full of ribbon. On the bottom shelf is projects that are cut out and waiting to be sewn
In the other cabinet I have threads in the top drawer. Lots and lots of thread. And on the shelves are 4 bins, 2 on each shelf. The top bins are patterns, one bin of brand new patterns and the other bin full of patterns that I have made and use frequently. The bottom shelf bins are used to store trims, like elastic trims, piping, FOE or fold over elastic which I have a million yards of, size tags, clothing care labels and clothing labels, like the nerd tags!
On top of the desk in the corners I store rubbermaid bins full of ribbon. Yes, I have a ribbon problem. And tubs of buttons, more patterns and a Longaberger basket full of receipts. I never claimed to be an accountant. And an accountant would probably stroke out looking at my "receipt saving system".
But first, here is the 14 pieces of fabric I picked up on Black Friday. About 27 yards worth. Stretched end to end, it would cover almost 1/3 of a football field. Look at me throwing out sports talk! All folded up though it doesn't look like much.
On to the room!
Before
Looking at the sewing table
Again, looking at the sewing table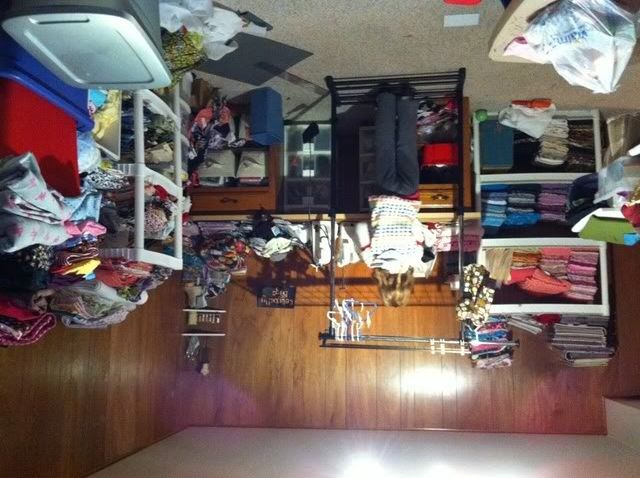 Fabric stacked in and on top of rubbermaid bins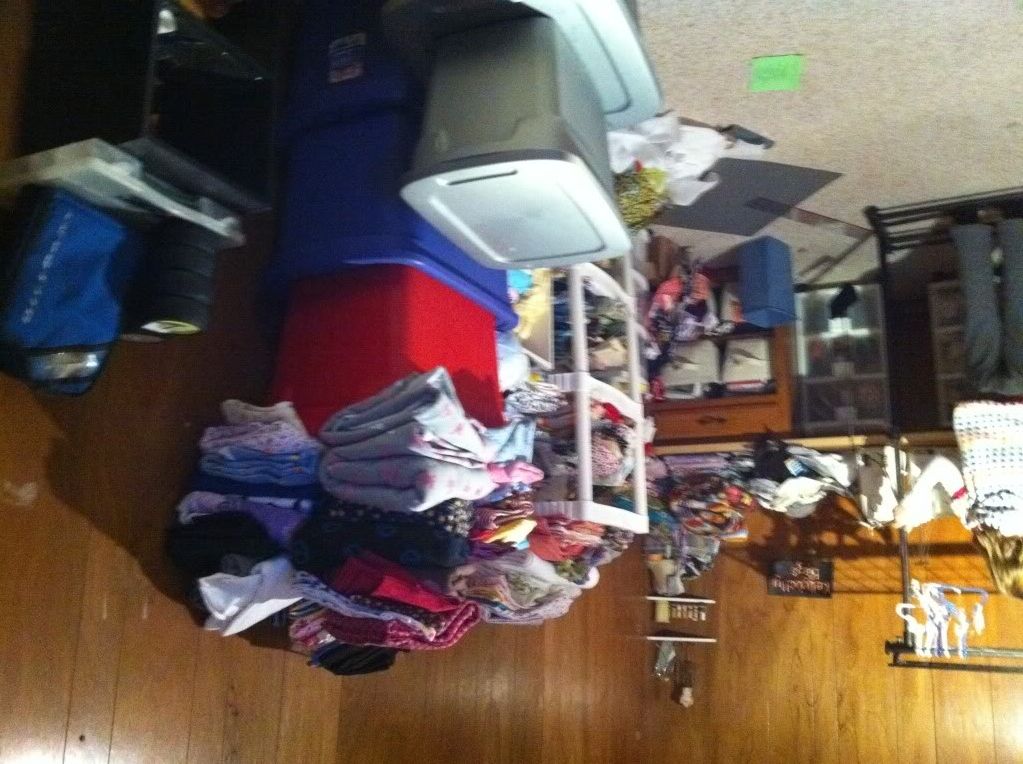 After
Looking at the sewing table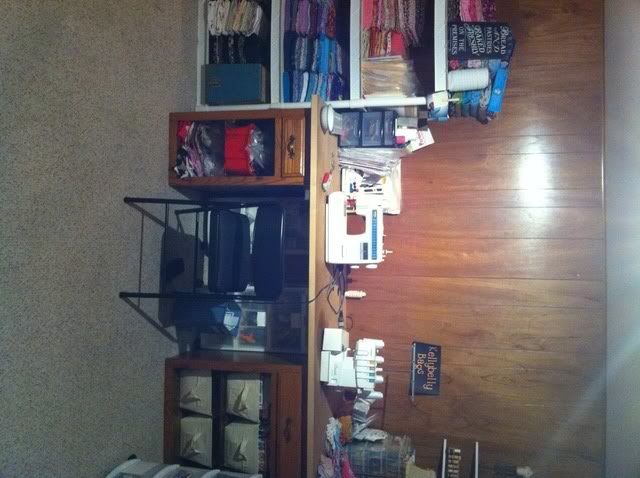 I ruler folded this fabric some time ago, but isn't it pretty! Flannel on the top shelf with a 300 yard roll of elastic, and the rest of the shelves are cotton wovens divided by color. On the right side of the pink shelf is file folders of pattern tracings from all my Ottobre magazines seperated by issue.
Remember the rubbermaid bins that were here? Replaced by the rack I use at the farmer's market with finished garments and my scrap boxes.
All the fabric that was on top of those rubbermaid bins is now on the shelf on the right. All knits, each shelf is divided by what kind they are. Interlocks, jersey's, ribbing and sweater knit/velour. The shelf on the left is all my purse making fabric, mostly home dec stuff from JoAnn's. It still needs to be ruler folded, but I just wanted to be done at this point. Oh, and the fabric in the rubbermaid bins, is still in the bins, on the other side of this closet. I didn't really have any shelf room for it. It may end up at Goodwill since most of it is stuff I got at gargage sales in "buy the whole bin" kind of sales and I am not too fond of it.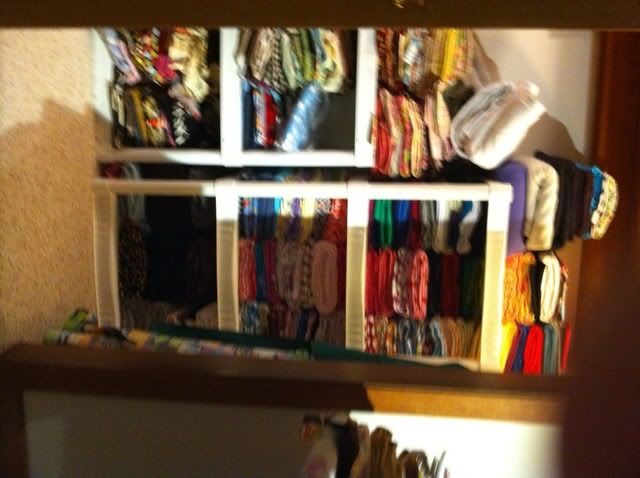 Well that's it! So few pictures for all the work.